The whole story of the Symphony Orchestra of the Orient (OSO)
* Note: www.orquestasinfonicaoriente.com is a non-institutional Cuban website. Source of information: Internet.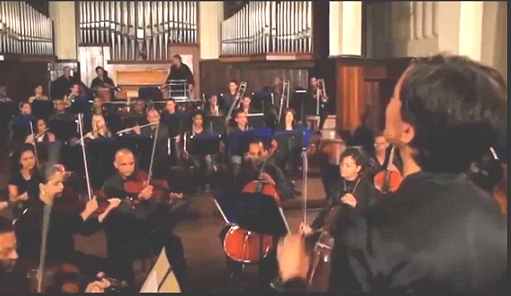 *Note: This article is in the process of revision and changes (beginnings, historical background and tour as symphonic orchestra before 1962, by Antonio Serret Danger, who founded the first symphony orchestra in the 1940s, in Santiago de Cuba with 46 performers ) based on accredited bibliographic sources, testimonies and certain references.
The Symphony Orchestra of the Orient (OSO) of Santiago de Cuba was refounded on March 1, l962 for the dissemination of national and universal music in Cuba.
His first concert took place in the "Mariana Grajales" Theater of the Old Moncada Barracks, city of Santiago de Cuba, on July 21, l962, being then only a small concert orchestra of 32 teachers under the baton of the founding teacher, Vicente Bartutis Coello
The objectives of the Orchestra
The main artistic objective in the creation of the OSO was to bring to the people of the eastern provinces of Cuba the knowledge of the most refined symphonic art of the Cuban and universal repertoire for the satisfaction of their spiritual needs and the elevation of their cultural level.
Currently, the Orquesta Sinfónica de Oriente is the Insignia Musical Institution of the city of Santiago de Cuba. It has more than 60 interpreting teachers and a history of more than four decades of existence as a symphony orchestra, still preserving the freshness of its beginnings. The OSO continues to be successful year after year and is admired by all who love the symphonic genre.
Refounding Director of the OSO: Vicente Bartutis Coello
Small biography of Vicente Bartutis Coello.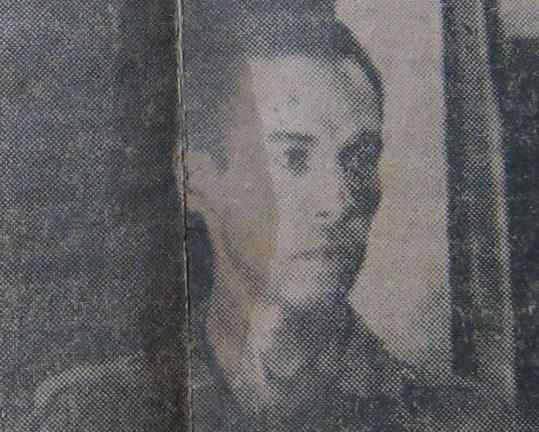 Flute player, orchestra director and composer. Sagua de Tánamo, Holguín, Oriente December 9, 1935.
Bartulis began his musical studies in 1940 with Nolín Riverí and continued with Cándido Álvarez on the flute.
After the revolutionary triumph of 1959, Bartulis joined as a flutist in the Rebel Army General Staff Band. During this time he took an orchestral conducting course with Manuel Dúchense Cuzán and Roberto Valdés Arnau and began directing the Camagüey Army Corps Band and then the Army Band of Santiago de Cuba.
In 1962, maestro Bartulis directed the Orquesta de Concierto de Oriente, which later became the Orquesta Sinfónica de Oriente, at the head of which he was more than a decade.
Headquarters of the OSO Symphony Orchestra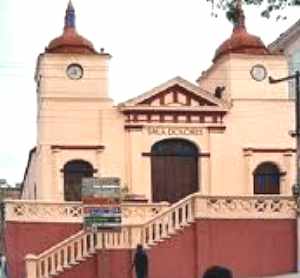 Its current headquarters is the Dolores Concert Hall of Santiago de Cuba, which was inaugurated precisely by the Orquesta Sinfónica de Oriente on January l, l989. Since then he has performed in concerts in this Hall periodically, usually every 15 days, with various programs. The concert season starts each year in September and ends at the end of July.
Historically, the orchestra's first rehearsal venue was the birthplace of the poet José María Heredia. Later, the rehearsals took place at the Casa de la Música, at number 473 on Calle San Gerónimo. Later, in San Pedro Street, between Santa Rita and San Carlos, passing these later to the Teatro Oriente. Finally, since 1989, its headquarters is the Concert Hall "Dolores", one of the most important and best in the country for this type of music.
The repertoire of the Orquesta Sinfónica de Oriente
The repertoire of the Orquesta Sinfónica de Oriente currently includes works that go through baroque, classical and romantic styles, including contemporary works, emphasizing the dissemination of works by Latin American and Cuban authors.
Important releases of composers
The Orchestra of the East has made important premieres of Cuban and foreign composers, mentioning
composers like:
Harold Gramatges,
Alejandro Julián (Mexico),
Leo Brouwer,
Jorge Luis Pujals,
Carlos Ovidio Morales (Puerto Rico),
Conrado Monier
Melvin Rodríguez
Guido López Gavilán
Mateo Oliva Oliva (Mexico)
Rodulfo Vaillant
Daniel Guzmán, among others.
Regular Directors of the Santiago de Cuba Symphony Orchestra (OSO)
They have been the titular directors of the Orquesta Sinfónica de Oriente in different stages of the Masters:
Vicente Bartutis (founder), (see his biography)
Gonzalo Romeu, (see his biography)
Enrique Castro,
Santiago Fals Castillo, 1973-77 (see biography) (see video)
Miguel del Castillo Clavel, 1991-
Anarelys Garriga Sosa, (see his biography here)
Mónica Alvarado Calderón (2001-2002) (Ecuador), (see biography here) (Facebook)
Daniel Guzmán Loyzaga (See his biography in Ecured here) (or biography in La Jiribilla) and
Cosette Justo Valdés (current, since 2010). (see Biography here) (see Facebook)
The invited directors
Among the directors who have acted as guests at the head of the Orchestra are the Masters:

Dayana García,
David de la Mora,
Cosette Justo Valdés,
Eduardo Ramos Saavedra,
Electo Silva Gaínza
Enrique González Manticci,
Enrique Pardo,
Enrique Pérez Mesa,
Julio Gonzalo Elias Roig Lobo,
Guido López Gavilán,
Helena Herrera,
Irina Lig-Long War,
Irina Toledo,
Jorge López Marín,
Jorge Luis Betancourt,
Jorge Rivero Tirado,
Juan Jorge Junco,
Leo Brouwer,
Manuel Dúchense Cuzán,
María Elena Mendiola,
Miguel Fortín,
Miguel García Oliva,
Norman Adolfo Milanés,
Orestes Saavedra Rodrigo Prats,
Zenaida Romeu,
Yeny Delgado,
Akin Benatia (Algeria),
Alexander Frolov (Russia),
Alexander Mikhailov (Russia),
Antonio Moya (Spain),
Alejandro Julián (Mexico),
Benjamin Steinberg (USA),
Bernard Rubenstein (USA),
Eduardo Kusnir (Argentina),
Eduardo Moubarak (Chile),
Stefano Mazzoleni (Italy),
Francesco Belli (Italy),
Guillermo Villarreal (Mexico),
Hilda Pous (Mexico),
Guido Alfonso Medina Rivera,
Eduardo Díaz Rodríguez Horacio Azcárate (Spain),
Jaime Braude (Argentina),
Juan Luis González Delgado (Spain),
Jans Joachin Reeps (Sweden),
Jean Paul Penin (France),
Julius Karr-Bertoli (Switzerland),
Mario Rodríguez Taboada (Mexico),
Mikhail Katanaf (Russia),
Pablo Alvarado (Chile),
Refmir Borissowich (Russia),
Valter Sivilotti (Italy),
Yoshikasho Fukumura (Japan),
Marc Moncusí (Spain)
Felipe Aguirre (Colombia) more info
Victor Vargas
Ramírez Stefano Mazzoleni (Italy)
Marcos Tulio Niño Wong
Roberto Valera
Louis Franz Aguirre
Jorge Gustavo Mejia Medina (Honduras)
Greta Perón Hernández
Gregorio Gutiérrez (Spain)
Roberto Sánchez Ferrer
Frank Fernández Tamayo
Jorge Luis Prats Soca
Patricio Malcom
Evelio Tieles Ferrer
Cecilio Tieles Ferrer
Jennifer Almeida Vidal
Lee Bracegirdle (Australia))
Luis Aguirre
Víctor Pellegrini (Argentina)
Yarineidis Llinse Kessell
Michael Elvermann (Germany)
Christopher Mina Díaz (Ecuador)
Leonardo Gell
Prestigious soloists of the OSO
Prestigious soloists of recognized national and international prestige have performed with the Orquesta Sinfónica de Oriente, among which we can highlight the following:
Adonis González, Alex Bravo, Alfredo Muñoz, Aquiles Jorge, Arturo Sandoval, Cristina Delisle, Daniel Vázquez, Enrique Navarro, Evelio Tieles, François Dolmetsch (England), Fernando Godínez, Frank Fernández, Frank Berenguer, Gerardo Alfonso, Huberal Herrera, Hugo Marcos Rodríguez Martínez, Hussan El-Kutob, Igor Frolov (Russia), Ivette Hernández, Jorge Luis Prats, Jorge Luis Zamora, Jorge Rivero Tirado, José Aquiles, Juan Jorge Junco, Katheleen MacIntosh (United States), Leo Brouwer, Leonardo Gell, Luis Rojas, Lleliandra González, Marco Tulio Niño Wong , Mari Kodama (Japan), María Remolá, María Isabel Prado, Mailyn Sevila, María Victoria del Collado, Mario Orlando El-Fakih, Michael Davison (United States), Michael Elvermann (Germany), Miguel Cintra, Miguel Villafruela, Omara Portuondo, Raúl Camayd, Raúl Estevanell, Rey Guerra, Flores Chaviano, Roberto Valdés, Rodrigo González Barragán (Mexico), Sara González, Sarah Hechavarría, Sergio Trujillo, Silvio Rodríguez Cárdenas, Teresita Junco, Victor Pellegrini (Argentina), Victor Rodríguez, Yasvetty González, Zenaida Manfugás, Magela Oquendo, Javier Orozco, Karla Martínez (Cuba), Martin Camacho (México)(2016 and 2017) and many others.
Development of the OSO for 55 years
The Orquesta Sinfónica de Oriente (OSO) of Santiago de Cuba is celebrating the 55th anniversary of its creation in 2017 . Watch this video related to the 55th anniversary.
To date, the Orquesta Sinfónica de Oriente has made nearly three thousand presentations in the most recognized in the country, in cultural centers, in study centers, in factories, plazas and theaters.
The OSO has offered concerts in numerous towns and cities of almost all the provinces of the nation, mainly in the eastern provinces of Cuba.
In addition to its performances in regular concert seasons, the OSO has also carried out programs and recordings for Radio and TV, as well as recordings for the Siboney label of the EGREM in Santiago de Cuba.
The OSO has participated in numerous festivals and events such as:
International Festival of Lyrical Art of Havana.
Seasons of Operas and Zarzuelas with soloists of the National Opera, with the Lyrical Study of Holguín and soloists from different countries.
International Guitar Festival of Havana.
Several editions of the International Choir Festival in Santiago de Cuba.
Different editions of the Caribbean Festival.
International Festival of Contemporary Music of Havana.
Romerías de Mayo in the city of Holguín Several editions of the Fiesta de la Cubanía in the city of Bayamo.
Musical Days of the UNEAC.
Concert Santiago. International Ballet Festival of Havana at the National Theater of Cuba in 2006.
National Meetings of Symphonic Orchestras held at the Amadeo Roldán Auditorium Theater in the City of Havana.
Infinity of national and international cultural events that have been held in Santiago de Cuba.